Counterfeit Cosmetics
Keeping up with the latest trends isn't always budget-friendly. The cosmetic industry is constantly changing, and influencers release their own signature products almost daily. However, being frugal when buying these looks can have consequences.

Over the last decade, the internet has had a growing influence on the way people shop. By replacing the inconvenience of a shopping trip with the click of a button and better prices, many of us are persuaded to spend our money online rather than in person. As the purchasing experience becomes less personal, it becomes rather easy for online vendors to pass off counterfeit products.

Fake vendors often capitalize on counterfeit cosmetic sales by simply offering them at a slightly lower price. As a result, many end up purchasing a product that is not real and potentially harmful to their skin and health. Unlike licensed beauty and cosmetic companies, these vendors don't spend the time, money, or research into studying the effects of their product's ingredients. This is because fake sellers don't have their reputation on the line. Instead, many consumers who receive counterfeit items turn towards the legitimate company with any concerns they have about the counterfeit product. Over time, these counterfeit items can completely ruin a brand's reputation, as the public perception is totally changed.

Fake cosmetics commonly contain ingredients like arsenic, aluminum, beryllium, and cadmium. Fake cosmetics can also carry unsafe levels of bacteria as a recent FBI investigation into fake cosmetics found that some counterfeit brands contain fecal matter in their products. They also found various counterfeit fragrances containing DEHP, which was classified as carcinogenic by the EPA. DEHP is a clear and almost odorless liquid that dissolves easily in most oils, making it a suitable filler and undetectable to its users. Due to this negligence, many of these products end up causing serious problems for users such as acne, eye infections, psoriasis, and skin rashes.

Distinguishing fake cosmetics from the real thing can be tricky, but there are several ways you can avoid making a dangerous purchase. Most of these phony products come in packaging that is almost identical to the real thing, matching the fonts, color schemes, and even barcode numbers. Instead of relying on the looks of a product, research the brand's website to see if the online retailer is an authorized reseller . Online retailers such as Amazon and Walmart are often thought to carry large brands such as Anastasia Beverly Hills, Kylie Cosmetics, MAC, and Urban Decay, but are not authorized resellers. Your best shot at purchasing the cosmetic brands you know and love are at authorized retailers.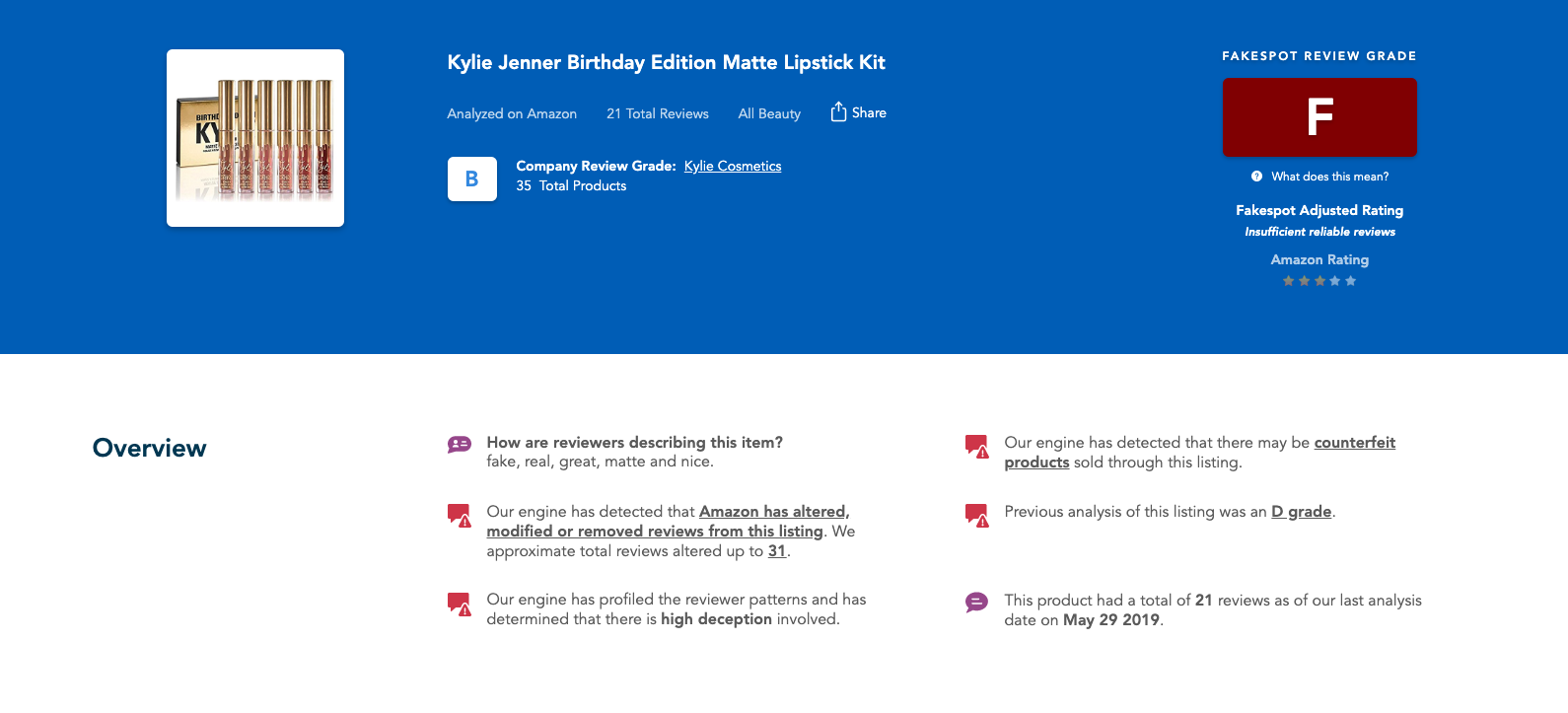 If you're still convinced about the legitimacy of a product, try analyzing it with Fakespot. You may find that fake vendors paid for good reviews in order to boost their sales and reach consumers like you. Fakespot is easy to use through our website, chrome extension and mobile apps. Fakespot will provide a grade (A-F), rating the authenticity of the reviews and warn you if there have been counterfeit products sold in the listing. While you may overlook bad reviews indicating a counterfeit item, Fakespot won't, ensuring you the most authentic online shopping experience. Fakespot can analyze beauty and cosmetic products from major online retailers including Amazon, Sephora and Walmart.

In an industry that is continually reshaping itself, you no longer do you have to be fooled by counterfeit beauty and cosmetic products online. Dedicating a few minutes into researching what you buy, before you buy it, can make all the difference.
Try Fakespot today and become a more informed consumer when shopping online, download our Chrome extension, Firefox extension or visit us at Fakespot.com